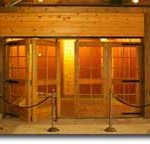 Since 1996, we have been the Number 1 supplier of quality barn door hardware to architects, contractors, designers and regular consumers. We offer rolling door hardware from leading brands like Richard Wilcox hardware and MWE. We also carry a full range of flat track and sliding door hardware.
Richards Wilcox Barn & Stable Hardware
Richards-Wilcox has the most experience in the specialty hardware industry. Since 1880, Richards-Wilcox has been supplying professionals with high quality, American made stall and barn door hardware for their industry.
Today Richards-Wilcox hardware is the standard of the industry. It has the highest quality of designs, lasts the longest in the business and maintains capacities up to 5, 000 pounds. Plus, they provide a large assortment of colors and finishes to match your own facility and design preferences.
Proven Applications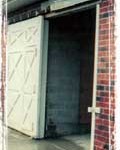 Richards-Wilcox hardware has been used and proven successful in: barn doors and stalls, acoustical panels, sliding room dividers, large warehouse doors, commercial swing and slide gates and more.
For the last 100 years, and still today, Richards-Wilcox is the leading manufacturer of door accessories for slide, swing and slide-fold doors used in zoos, aquariums, barns, stables, contemporary buildings and historic buildings. Their hardware can be found across the nation in various commercial, industrial and residential settings.
Quality Guaranteed
Richards-Wilcox has been designing and manufacturing the same quality, heavy duty industrial hardware since 1880. Today they still manufacture a line of speciality hardware for the antique reproduction market, including many different types of hinges, hinge straps, antique flat tracks and more, most often used in historic preservation applications, such as landmark buildings or barns.
Hinges come in classic and modern design and finishes and both standard strap hinges and heavy duty strap hinges are available.
The Dandy Door Latch has been used for over 100 years and provides superior locking ability for all swinging and sliding gates and doors. Its designed with keeper and animal safety in mind, and its versatility is based upon the patented design that cannot be opened by horses or cattle.
Check out Richards-Wilcox Flat Track Hanger Systems for an antique look complete with modern ease of movement. They offer style, durability and the look of quality you desire.
In addition, you can read about family tree gift.
From tracks, trucks, hangars, latches, handles, pulls, hinges and all other associated hardware, Richards-Wilcox has continued to provide the industry with the highest quality hardware backed by the Richards-Wilcox 10 year warranty.
And here are BarnDoorHardware.com, we do you one better. We guarantee all our products for 20 years! So what are you waiting for?
Specialty Doors, Too
Sliding Partitions – Sliding room dividers can be a great way to divide up space without any major construction. Sliding partitions are stylish and can fully function as a door or be used as a divider to create dimension in an area.
Book Case Doors – Whether you're looking to hide something or just always dreamed of having a secret door, we've good you covered. Bookcase Doors by Woodfold are attractive, extremely functional and make a perfect fit in both residential and commercial applications.
Acoustical Doors – Designed to reduce sound transmissions, acoustical doors (or elephant doors or simply stage doors) can eliminate most noise and are typically operated electronically.