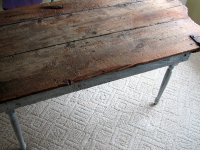 Looking at all the imperfection of the door, reminds me how beautiful old and used items are.
The children especially love playing with the hinge, while they are sitting on my lap.
After a couple of months, and not being able to find any vintage folding chippy chairs ( I am still looking), I decided to paint the chairs I already had.
I sanded all 6 chairs and painted them fun, bright colors, red, green, purple, orange, turquoise, and yellow.
Thank you Martha Stewart paint samples.
The children love them, and it has helped Baylie with learning her colors.
I love how unique they are! It is not every day you walk into someones home, who has 6 different colored chairs.
I added a burlap table runner, with Turquoise strips (the DIY is coming on the runner.)
An IKEA white vase, with dried Hydrangea from my sisters garden, takes center stage on this one of a kind table.
Playing games around this table, and entertaining is so enjoyable.
Remodelaholic is a participant in the Amazon Services LLC Associates Program, an affiliate advertising program designed to provide a means for sites to earn advertising fees by advertising and linking to amazon.com. Please see our full disclosure here.