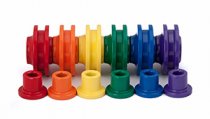 Aero Flat Track is refined and unpretentious with a minimalist design. The sturdy hangers affix to the top of the door lending simple visual appeal without sacrificing durability and strength.
Exposed wheels ride on the steel rail creating a sleek, modern barn door look especially suited for interior doors. Aero is available in unfinished (raw) steel or a variety of powder coated finishes including black, oil rubbed bronze, and white. Upgrade to Hush Wheels® for smooth, ultra-quiet operation.
Aero Flat Track is manufactured with Real Carriage quality in Washington State, USA.
Fast lead time: 1-3 business days for stock items. Most standard orders ship same day.
DETERMINE BARN DOOR HARDWARE KIT LENGTH
Single Barn Door: Multiply your single barn door width by two for optimum hardware track length. For a 3ft barn door, you would typically need a 6ft barn door hardware rail kit.
Double Doors: For biparting doors, choose kit for total track length needed. Then change "Quantity of doors on track" to 2 or 3 for the additional door hardware needed.
OTHER:
Lag bolts are included and are used to attach the hardware track to the wall.
CUSTOM DOOR AND TRACK SIZES
If your door requires a track length that falls between sizes, simply round up to the next available size and pair with an adjustable end stop. This will enable you to customize the endpoint of the track. Please call for custom track lengths and applications - 800.694.5977
COLOR OPTIONS AVAILABLE
Aero hardware is available in a range of exciting colors! Visit our Spectrum color page for more info.
TECHNICAL DETAILS
**Rating per pair of hangers
ACTUAL RAIL LENGTHS:
Use this chart to determine the exact length and quantity of barn door hardware rail you will receive (rails 10' or higher are sent as 2 pieces):
BARN DOOR HARDWARE ACTUAL RAIL LENGTHS

Kit Size
Actual Rail Lengths (inches)
Total Actual Length (inches)
4'
1 rail @ 47"
47"
5'
1 rail @ 59"
59"
5.25'
1 rail @ 63"
63"
6'
1 rail @ 71"
71"
7'
1 rail @ 83"
83"
8'
1 rail @ 95"
95"
9'
1 rail @ 107"
107"
10'
2 rails @ 59" each
118"
12'
2 rails @ 71" each
142"
14'
2 rails @ 83" each
166"
16'
2 rails @ 95" each
190"
18'
2 rails @ 107" each
214"
DOWNLOADS
NOTE: Doors not included in kit. For do-it-yourself sliding doors, see Real Barn Door Kits. For other, high quality doors, visit Real Carriage Door Co.