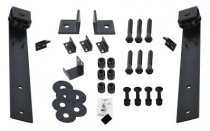 If one sliding barn door is great, then two sliding barn doors are awesome! (And don't even get us started on four.) All this awesomeness is possible with our optional Goldberg Barn Track Bi-Pass Hardware Set.
When combined with our standard barn door track hardware kit and some additional track and related parts, you can hang one door in front of the other. When fully extended, both doors cover a double-width passage way. With a pair of bi-pass sets, you can hang a total of four doors on two tracks to cover a quadruple-width passage way.
The second track for the additional door can be mounted on a soffit above the doorway, or you can add optional spacers for non- soffit installation.
Frankly, it gets a little complicated and you may need a few more parts than what is included in the standard set, so be sure to work with your local to make sure you get everything you need for your custom installation.