Designed for low traffic entries and large windows up to 12 feet tall.
The fresh air and beauty of the outdoors is meant to be enjoyed. But when it comes to bugs, harsh sunlight, drafts, and inclement weather, sometimes even the biggest nature buffs want to stay inside. Luckily, Screenex retractable door screens provide a means to enjoy the fresh air of nature without the unwanted elements.
So what is a retractable screen door? Unlike sliding screens, or stationary screens, Screenex retractable screens move easily and have no rigid frame that will be at risk of getting bent. The installation takes no more than 20 minute. And when you want to put your screen away, it's as easy as retracting the screen into a cassette and storing it away, out of sight, until you need it next.
Custom retractable door screens are versatile enough to fit in a number of spaces, including patios, garage doors, gazebos, porches, and windows. In fact, their functionality and smooth, seamless usage makes them an ideal replacement for traditional window screens.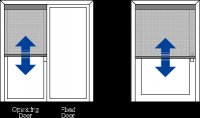 ScreenEx retractable door screens take convenience to a transcendent level. Not only do they only take 20 minutes to install, but they only require six to 12 screws, making practically anyone capable of the job. For added convenience, retractable door screens allow you to install a remote control, making your retractable screen open and close with a simple pressing of a button.
All ScreenEx products are assembled within the United States using foreign parts, assuring the utmost of quality. To ensure your retractable screens are working to their utmost potential, we even offer a lifetime warranty on tracks and cassettes, a five year limited warranty on electronic motors and accompanying remote control, and a one year warranty on the mesh screens, as permitted by the normal conditions and use.
So what are you waiting for? Call Screenex today to be one step closer to feeling that beautiful breeze from the comfort of your couch.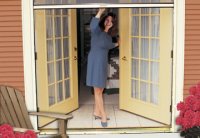 ScreenEx Pull Down Screens have no track on the bottom making it the perfect solution where wheelchair access in needed. The screen slides down the side track and secures in place without a rigid frame. If accidentally bumped into, the screen gives with the pressure then slides up into place without damage. As with all ScreenEx products, the Pull Down version is easy to instal and retracts completely out of site when not in use.
Fits Any Door Style:
Single Door In-swing or Out-swing French Doors Dutch Sliders
Colors:
white
almond
brown
black
Colors are approximate, not accurate to actual product. Ask for sample if color is critical.
French & Single Doors
Pulls down like a window shade and maintains a clear view through door when retracted.
Pricing:
Model#
Size
(width x height)
Suggested
Retail Price*
PD-3682
36" x 82"
$289.00
PD-4882
48" x 82"
$319.00
PD-6082
60" x 82"
$369.00
PD-7282
72" x 82"
$409.00
PD-4896
48" x 96"
$419.00
PD-7296
72" x 96"
$449.00
*Does not include shipping or sales tax. Prices subject to change. Please call to confirm pricing.
Freight carrier used for over 103" for shipping
Start Your Order Now!