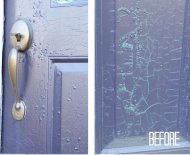 I have painted quite a lot in my life—from rooms, to furniture, and everything in between. I have had great success with everything except for one item: the front door to my house. It is a metal exterior door that gets full afternoon sun. The metal heats up like an oven and over time bakes the paint right off the door.
When my husband and I first bought the house, the door was painted green. After a few years the paint finish started to looked cracked. When people would come to the door, they often asked how we achieved the look—the "Crackled Lacquered" style was a trendy finish at the time. I had to tell them it was not intentional, just a "paint fail." I was told by pros that using a lighter color paint may help. I tested out lighter colors, but I wanted a classic color to go with the brick facade and tan siding on the house.
After lots of trial and error using many combinations of primers and paint over the years, I have come up with a successful formula. I tested it out on my exterior metal side door last summer, which gets the same amount of sun. It has not cracked.
So this spring, I set out to do the same on the front door.
How to Paint a Metal Exterior Door
Supplies needed:
Glidden Gripper Primer (White or Grey, depending on your chosen paint color)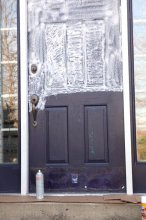 Glidden Premium Exterior Paint in a Semi-Gloss Finish
Foam paint roller & roller cover
Roller tray
2″ angled brush
Paint stirrer,
Paint stripper (if you are painting over a metal door that is cracking or peeling)
Paint stripping gloves
Sandpaper
Scraper
Drop cloths (I cut up boxes instead of using an actual drop cloth)
Notes if you're painting your door in place on its hinges:
If you are going to keep the hardware, it is easier to remove it before painting. (I did not remove the door hardware to paint, since I knew I would be replacing the existing pieces.)
Only paint in the shade, never in full sun. Try to paint when the air temps are around 75 F and there is no wind.
Step 1. Remove Existing Paint
If your door has old paint on it, it needs to be stripped off with paint stripper. You can use a heat gun, but I chose to use chemical stripper. I followed the directions on the labels of the cans I already had from previous projects.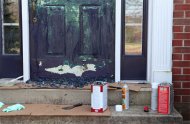 It is a messy job, but one that needs to be done if you want the new paint to successfully adhere to the metal.
Step 2. Sand and Wash Clean
Once all the paint is off, sand any areas with sandpaper where the paint won't budge, and then wash the door with TSP cleaner and rinse well. Let dry.
Step 3. Prime
Roll on one light coat of Glidden Gripper primer on the flat surfaces of the door. Use an angled brush to paint the recessed panel areas. Let dry and then add a second very light layer of primer. Let dry.
Tip: If you're using a dark color to paint your door, use the grey Glidden Gripper primer formula or have the paint store add grey to the white Glidden Gripper formula. This will lessen the number of coats of paint needed for full coverage. When the primer is white, it takes a lot of dark paint to cover it evenly.
Step 4. Paint
Roll on one light coat of your exterior paint on the flat areas of the door. Use the angled brush for the recessed or beveled panel areas. Let dry.
Here is what one light coat of paint looks like over the grey Glidden Gripper primer. Once the first coat is dry, add a second light coat and let dry. Touch up if needed.
With the addition of shiny new hardware, my front door has never looked better.
I have been sponsored by the Glidden® brand paint for PPG to write this post but the thoughts and opinions expressed are my own.