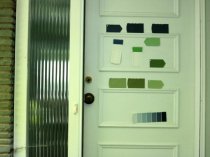 Introduction
Before
After
Front doors require a certain amount of maintenance, such as regular cleaning, weatherproofing and the occasional (well-deserved) spruce up. A new coat of paint is a welcome opportunity to choose a new color and refresh your home's first impression.
Choose New Paint Color
Choosing a new color for your home's front door can be overwhelming whether you're going for a fresh coat of neutral or taking the plunge with a high-contrast hue. Tape a few swatches (ours came from a midcentury paint palette) to your door. The colors will appear quite different outdoors than they do inside your home.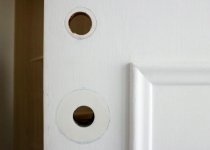 Consider the other colors in your home and its surroundings. In our case, the natural greens in the plants surrounding the entryway served as inspiration, as well as the gray undertones in the flagstone accent and the home's siding and roof. Weathered flagstone in the sidewalk has a natural, mossy patina that complemented the green colors in the most flattering way.
Remove Hardware and Prep Door
It's easier to achieve a professional-looking finish if you take the time to remove the locks and knobs. You can tape them off and paint around them, but it's not the best approach. If you're considering new hardware, now is the time to get it.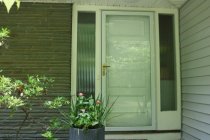 Clean the door and use a palm sander to roughen the flat surfaces of existing paint (Image 1). This will help give the primer a better surface to adhere to. You may have to hand sand in the crevices and around the trim (Image 2).
Wipe the entire door clean with a dry rag to remove dust (Image 3).
Apply Primer
Depending on the final color, you may want to get the primer tinted. By doing so, you'll probably need fewer coats of paint. However, we used just white primer and two coats of green paint (about 1 quart of paint).
When the primer has dried, run the sandpaper lightly over the surface to level out any irregularities in the primed finish. Use the rag to clean off the sanding dust.
Roll Paint on Flat Surfaces
Use a small 6" roller with a low-nap texture (or a high-density foam roller) to apply a smooth, consistent paint application across all of the flat surfaces, including the edges of the door.
Use Brush for a Hand-Painted Finish
Low-nap and foam rollers are ideal because they leave minimal stippling on the surface. But to achieve a really nice finish, use a paintbrush to lightly brush over the final coat of paint while it's still wet to level out roller marks and leave a smooth "hand-painted" texture.