Use this Windows Calculator tool to estimate the prices for new Replacement Windows installation. You can calculate cost for any type of new replacement window, and most available options: Double Hung, Casement, Picture, Bay / Bow and Garden windows, made out of vinyl, aluminum, wood or fiberglass. Options include Low-E / Argon, Grids, Inside Trim, Exterior Trim (Copping) and window build quality. You can estimate prices for multiple windows at once.
How to use Windows Cost Calculator: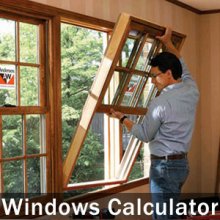 1) Enter the number of each window type that you want to estimate.
2) Select windows material type (Vinyl, Wood, Fiberglass or Aluminum).
3) Select windows energy efficiency options: Low-E, Argon Gas, Low-E and Argon, or None. NOTE: Most state building codes require the use of Low-E glass.
4) Select Windows Build Quality. This setting is primarily for VINYL windows, and sometimes applies to fiberglass windows. Wood and Aluminum windows from same manufacturer are usually of the same quality.
Build quality is VERY important to the long term performance of your windows.
Basic vinyl windows are constructed using mechanical assembly - this means that all frames and sashes are screwed together. This compromises the dimensional stability of the window and will lead in short time to difficulties in opening / closing the window, as well as air leaks and energy loss. Additionally, the weather-stripping in basic windows type is of very poor quality, so as the lifting mechanism and locks. We do not recommend this type of windows
Medium build quality usually offers fusion-welded frames and sashes, better quality weather-stripping, locks and sash sliding mechanism, but usually does not include insulated frames. Also frames are typically made from a lower gauge vinyl.
Best build quality usually means most durable / strongest frame, all fusion welded parts, more weather stipping and sometimes Triple Glazing for best energy efficiency. These windows will last you the longest, and will continue to operate at its original condition for a long time. However the price increase reflects the quality increase.
5) Choose Trim Options: In most case you can reuse existing STOPS (interior trim around window frame). If you need / want new stops, this will cost you about $5-10 per linear foot, with materials and installation. If you have bare (painted) wood exterior window casing, it is recommended to wrap it with flat-stock aluminum (Copping). This will protect your wood against rot and will eliminate the need for painting.
6) Grids are optional. We included pricing for most common "Colonial" type of grids.
The estimated cost includes cost of NEW windows (prices are compiled based on Harvey's and Alside vinyl and wood windows catalog price, less contractor's discount, and reflect approximate price that most homeowners would pay to a contractor for buying these windows. The labor cost is also included in the total prices, and reflects average windows installation cost across the US. Your local prices will vary depending on the contractor you hire to do your windows and local economic conditions.