Have you been looking for a great way to keep those pesky bugs out of your home during the summer months but simply don't have the extra funds to purchase a screen door or much less install it properly? Would you have ever thought that magnets may be the key to end it all?
Neither did I, until I saw a magnetic screen door system called Magic Mesh. I know you have probably seen the many advertisements for Magic Mesh either via the internet or through TV commercials, and wonder what many people probably wonder, "If it really works?" and "Would it work for my house?"
Well, if you are looking to buy the Magic Mesh screen door system for your home, camper, or, like me, for your office this summer, then you want to make sure you read this Magic Mesh screen door review so you can know if it's right for you and what some of the pros and cons are.
So, What is Magic Mesh?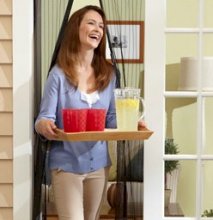 Magic Mesh is an instant screen door that you can literally fix and hang in your front or back doors, your sliding doors, or your RV or camper in a short time. Magic Mesh is made of a fine mesh which will allow air to get in, but will keep those pesky insects, mosquitoes, flies, and wasps out of your home.
The Magic screen door includes two separate panels that are held together by a total of 18 magnets. You can virtually walk straight through your Magic Mesh screen door without having to use any hands to open it. Even better, after you have passed through the screen door the magnets will click together automatically, so there is no need to close the screen door.
Not only is Magic Mesh great for keeping bugs and insects out of your home, but you can also save a ton of money on your electricity bills because now you have no need to run an air conditioner or fan during summer months. Not only is a nice, cool summer breeze gentler to the environment, but to your budget as well.
Magic Mesh Screen Doors are also great for pets because there is no need to open or close the screen door to go in or out. Your cat or dog can literally walk through the screen door to go outside or inside and the magnets will shut right behind them. There is no more need to get up because your dog is whining or scratching to be let out or in.
Features
The main feature of Magic Mesh is the 18 magnets that literally create an automatic fastening system for the mesh panels. Also, the fine mesh design is just right for airflow while still providing protection. Another feature is the speed and ease of the installation process. Of course, the fact that the Magic Mesh panels can be removed and stored until the next season is also very helpful.
Does Magic Mesh Really Work?
Well, I can't really speak for other Magic Mesh users out there, but my own experience has been that Magic Mesh has stood the test of time. Watch as I install my Magic Mesh below.
It has been two months since I shot the video of myself installing Magic Mesh in my office door, which sees a lot of traffic from myself, my wife, and my children. The Magic Mesh is still going strong, with no holes, tears, snags, or problems.
It has been really great this spring to leave the door open (which lets in more light too, since my office door has no windows) and enjoy the sound of the outdoors while letting air flow in.
One thing I forgot to mention in my video is that I do a good bit of cigar smoking in my office. I installed a bathroom fan in the wall to suck out some of the smell, but to tell the truth it doesn't help as much as I would like. Having the Magic Mesh doors has been great to air out the room and let some of that stale cigar smell escape.
Installing Magic Mesh
Installation really only takes seconds because all you have to do is stick the fabric fasteners to either your door and then attach the Magic Mesh screen door to them. You saw the video – yes, I did go off camera to keep from boring my audience, but even so it took probably two minutes to get it up.
Surprisingly, the screen door actually holds pretty well. Plus, the automatic magnetic fastening system has been fun. I will say that there has been the rare occasion where the magnets don't get quite close enough to pull together, but all you have to do is move one with your finger and it gets close enough to snap. Once one snaps, they all snap up.
I actually wish I had purchased another one of these for my patio door, since that's the door that really sees the most action at our house. We live in a farmhouse in a cow field and there are a LOT of flies that get in. Add four kids running in and out and you can imagine that by mid-summer we have a real fly problem in our kitchen. I'm considering getting another Magic Mesh door to help keep it under control!
When summer's over and we're into autumn, I'm looking forward to taking it down and storing it in one of my desk drawers. I'll have to keep everyone informed of how many years this door actually lasts!
Pros
Obviously, I'm happy with my Magic Mesh door, but here's a list of pros I came up with:
Keeps insects out
Lets air in
Easy to use
Easy to install
Seems very durable
Makes me feel more "outdoors" when I'm working in my office
No need to run AC on a temperate day
Cons
Occasionally doesn't snap together all the way
A little tricky to use if you're a tall person (see explanation below)
So, one of the few things I noticed is that because the Magic Mesh is stuck to the middle of the door at the top, you can't really open the top part of the door very wide without pulling on the fastener.
If you're an average size, it's not a problem because your head would be where the Magic Mesh can open easily. However, if you're pretty tall, you have to either duck a little or use your hands to keep the door from pulling on the area where it's fastened to the door frame above you.
If you're a family of tall people, I can see how this would be a reason to think about whether Magic Mesh would be right for you. I'm about six feet even and I haven't had a problem with it. Even if I did, I think the positives would outweigh the negatives for me.
Purchasing
Right now if you purchase Magic Mesh, they have a "buy 1 get 1 free" offer, so it would be $19.95 plus $7.95 for postage and handling. You will, however, have to purchase the additional postage and handling fee for the second Magic Mesh door. If you live in Canada you can buy Magic Mesh Here.
I wish I had done it that way instead of getting it somewhere else because now I'd have one for my patio door, as I mentioned above.
Magic Mesh, in my opinion, is well worth the $20 because it does do its job and is definitely one of those seasonal items I have found to be valuable. Hope this review has helped you!