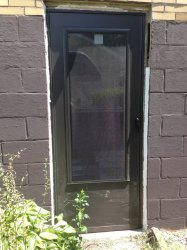 This isn't a common saying, but it makes sense as part of a metaphor, simile, or analogy.
A screen door is a door that has a screen to allow air to come into the house, even when the door is closed. Here's a picture of one on the side of my garage. The pic was taken right after the door was installed, so there's some trim missing around it:
There is a regular solid door behind the screen door. When I want to allow fresh air to come in on a nice day, I can open the steel door and keep the screen door (also called a storm door) closed. That way, fresh air can come in, but insects and animals can not. Screens on doors and windows are pretty popular where I live, but they are not used at all in some places. When my mother-in-law came to visit from Poland, she was really impressed with screens. She had never seen anything like them in her life.
A is a vessel that goes underwater. Here is an image from the Wikipedia article linked in the previous sentence:
Now that you know what those two items are, it shouldn't be too difficult to understand why you wouldn't want or need a screen door on a submarine.
You could use it in a sentence to describe something that is a really bad design or useless. You could also use this phrase when talking about assigning a person to the wrong job (he's good at __, but wouldn't be any good for __, just like a screen door is nice on your house but not on a submarine) or using the wrong tool for a job.