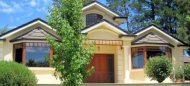 Home Window Tinting
Home Window Tinting Adelaide

When you need Home Window Tinting Adelaide, Adelaide Premier Window Tinting are the ones to trust.
At Adelaide Premier Window Tinting we offer you the best quality home window films available, a hassle free prompt service and expert advice that comes with over 15 years experience in the Adelaide window tinting industry.
We spend the time to consult with you about all your home window tinting needs so you can be sure you get the best home window tint product for your property.
Make your home more energy efficient - get a home window tinting quote today!

Untreated windows in your home can lead to excessive heat gain, unbearable glare, fading to furnishings and high heating and cooling costs. Our solar control home window tinting products overcome these problems by rejecting 99% of UV rays, lowering heat by up to 84% and reducing glare by up to 94%.
Ask us about our new Energy Smart and spectrally selective range of window films.
For all Home Window Tinting solutions contact us today!

Adelaide Premier Window Tinting have a large range of premium quality window films suitable for all your Home Window Tinting needs. Our industry leading films improve the aesthetics of your home and offer incredible optical clarity, superior heat and glare reduction and a lifetime of benefits - they are a clear choice for your energy management solutions.
Get a window tint that works - contact Adelaide Premier Window Tinting to arrange your free measure and quote!
The Experts in Home Window Tinting - Adelaide Premier Window Tinting for your Home, Shop or Office
Adelaide Premier Window Tinting service Adelaide Metropolitan areas, the Adelaide Hills, Northern Suburbs and the Barossa Valley regions.
Please read further about the range of home window tinting products we offer below.
Please follow this link to see more images of our Home Window Tinting work.