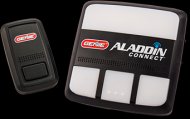 If you are like many homeowners, the garage door is the largest and most used entry point to the home. Monitoring who is going in and out of your
garage or having the ability to use your smart device to operate the garage door gives peace-of-mind and control.
Aladdin Connect does those things and much more. With Aladdin Connect not only can you check whether your garage door is open or closed, but you can also:
Instantly know that someone is operating your garage door, whether the person is an authorized user or not.
Know when someone is manually operating your door so you can take necessary steps to find out who and why.
Open the door for anyone such as delivery or repair persons, relatives, or friends when they call or text you upon their arrival so you don't have to provide a temporary access password.
Have a history for each opener of when the door was used including dates & times.
Because Aladdin Connect uses a sensor attached to the garage door itself, you are alerted as to whether the door changes to the fully open or closed position even if the door is operated manually by disengaging the door from the opener. That's a big security advantage versus other systems that monitor the opener instead of the garage door position.
Remote Access Control System with easy installation and set-up
Compatible with most iOS and Android mobile devices
Ability to monitor the door position (open or closed)and any change to the position whether it's done through the Aladdin Connect app or manually
Ability to know if an authorized user is operating the door with the Aladdin Connect app
Maintains access history report for each opener
UL 325 compliant - audible and visual signals before door moves when operated from smart device
One Door Control Module controls up to three doors while one Door Position Sensor is needed per door (one module and sensor come standard with kit; additional sensors sold separately)
8 a.m. – 7 p.m. CT Monday-Friday, 9 a.m. – 5 p.m. CT Saturday
Activate your opener from most Apple or Android smart devices by accessing the Genie Aladdin Connect app (download through Google Play or App Store).
Your smart device will send an electronic communication to the internet cloud.
Your home router will then receive this communication and pass it via Wi-Fi to the Door Control Module (DCM), which is connected to the opener.
The DCM then communicates to the Door Position Sensor (DPS) mounted on the door via Bluetooth Technology.
Within seconds the DPS returns information back through the system to your smart device.
Here's some of the best reviews & testimonials about Aladdin Connect:
Great app. Easy to install. Aladdin provided excellent customer support when needed during install. Highly recommend this opener and app!
Genie and the Genie logo are registered trademarks and Aladdin Connect™ is a trademark of GMI Holdings, Inc., d/b/a The Genie Company. Consistent with our policy of continuing product improvement, we reserve the right to change product specifications without notice or obligation. Apple and the Apple logo are trademarks of Apple Inc., registered in the U.S. and other countries. App Store is a service mark of Apple Inc.