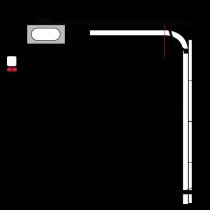 Things to check first!
Install opener as specified in manual
Xtreme photo eyes have been installed using supplied wiring
Xtreme photo eyes are aligned page 14.
Xtreme wall panel has been installed using supplied wiring page 15.
Trolley is attached to garage door using door arms.
Emergency release handle is engaged.
Opener is plugged into a power source.
Belt or chain tension has been set as recommended on page 7 of the manual.
Xtreme wall panel is glosing dim red. (bright red if locked)
Go to the back of the opener as shown above
Here are the buttons you will operate
FIRST: PROGRAM UP LIMIT (With the garage door in the CLOSED position) Step 1: Step 2: Step 3: Step 4: Push/release the white limit button once.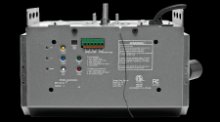 The green up light will illuminate. With the green up illuminated press and hold the green up button. Garage door will travel up and trolley will move towards the opener. Take special care not to hit the stop bolt located in the rail. Step 6: Step 7: Step 8: Next Down Limit Release green up button when door has reached the full open position. You can micro adjust by pressing/releasing the up and down buttons Push/release white limit once. Orange ok light will flash once. Next step to programming is to set the down limit - go to next step 9 SECOND: PROGRAM DOWN LIMIT (With the garage door in the OPEN position) Step 9: Step 10: Step 11: Step 12: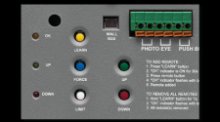 Push/release the white limit button twice. The red down light will illuminate. With the red down illuminated press and hold the red down button. Garage door will travel down and trolley will move away from the opener. Step 13: Step 14: Step 15: Next Force Release red down button when door has reached the full closed position. You can micro adjust by pressing/releasing the up and down buttons Push/release white limit once. Orange ok light will flash once. Next step to programming is to set force - go to next step 16 THIRD: PROGRAM FORCE (With the garage door in the CLOSED position) Step 16: Step 17: Step 18: Step 19: Both of the green and red lights should be illuminated. Press/release the blue force button once. The garage door will automatically trave all the way up and stop for a few seconds then reverse. The garaged door will automatically travel all the way down and stop. The orange light will flash and the unit will beep 3 times. Your are now done programming. GREAT JOB!! YOUR OPENER IS NOW PROGRAMMED AND READY TO OPERATE!! FOURTH: TEST YOUR OPENER (With the garage door in the CLOSED position) Step 20: Step 21: Step 22: Step 23: Push/release the large white button on the wall panel. Make sure that the button is in the unlock position. The garage door will travel up and stop at full open. Push/release the large white button on the wall panel. Make sure that the button is in the unlock position. The garage door will travel down and stop at full closed. Remember to follow final adjustments and testing on