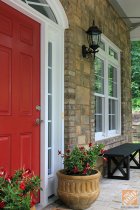 In our Style Challenge series, we ask some of our favorite bloggers from around the web to surprise us with their ideas for creating a stylish and functional space using Home Depot products as a starting point.
Sandra, from the Sawdust Girl blog, shares her simple front porch decorating ideas. See how painting her front door in a lively red transformed the look of her front porch. She added some potted plants and a couple of DIY benches, too, to boost her home's curb appeal to a whole new level.
I've read that a red front door bids guests and travelers "Welcome" in almost every culture. I love that!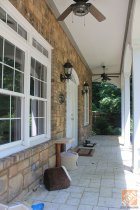 Plus, I wanted a red door because I thought it would contrast well with the white trim and stone on the front of my house. :-)
We've lived in our home for two years, and while I've done a LOT of work on the inside, I've completely ignored the front porch. That's funny because the front porch is the first thing people see when they come to visit.
Getting the invitation to participate in the Home Depot Front Door Design Challenge lit a fire under me to take a real hard look at my front porch.
It's not terrible, but it's pretty blah –which is sad because it's a huge covered porch and has some real potential.
The first thing to tackle was painting the front door. Nothing is that simple though.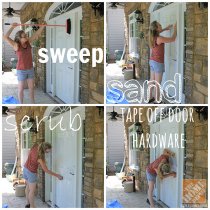 First I had to clean…
and fix…
and repair…
and THEN paint.
I painted with Behr Marquee – Awning Red. Red is usually a difficult color to get coverage with, and I normally prime with grey before I tackle the red. Since the primer is IN the Marquee paint, I didn't prime my door first. I just went for it, and it only took three coats.
Much better!
Once the door was fresh and lovely, I decided to go "all out". I added some pots and flowers and built a couple benches to make the entire porch look welcoming.
It's funny that I ignored this space for so long. Now whenever the doorbell rings, it brings a smile to my face because I know my visitors are waiting in a cute little space. They're probably laughing at the fact that the flowers are sitting on scraps of 2×4 in the giant pots, though. (So I didn't COMPLETELY finish the makeover…I'll get to that someday.)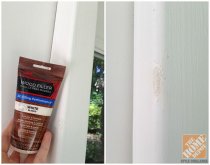 Sandra, author of the blog Sawdust Girl, is a designer, is a carpenter and DIY coach. She's been remodeling homes and designing and building custom built-ins for over a decade. She loves sharing her skills and knowledge with others who want to learn how to "Build it Yourself".
To complete this project, Sandra used Behr Marquee paint in Awning Red.
For more painting and front porch decorating ideas, see other Style Challenge articles here on the Apron blog, and follow our All About Paint and Curb Appeal pin boards on Pinterest.