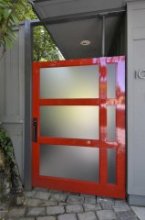 1. Red: You can't go wrong with a classic fire engine shade, and this bold hue looks great with homes clad in white, blue and grey. Try it in a high-gloss finish, like this one below, to make it extra eye-catching.
2. Indigo: We especially love how this color will change shades and look totally different from morning to night. It's dramatic and dark, but also crisp paired with bright white trim.
3. Orange: Go bold or go home. Nothing makes a statement quite like orange, and this not-to-be-missed hue will draw people right inside. We especially love it on a dark charcoal backdrop, which makes the color really vibrate.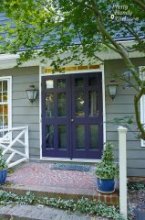 4. Black: While you may argue that this is the opposite of a stand-out color, a freshly-painted black door commands attention and looks great with just about every exterior and style.
5. Lime Green: We have to look twice when we pass homes with an entrance painted in this show-stopper. While we know it won't work for every abode, it looks especially smashing with brown, grey or a raisin-colored exterior.
6. Yellow: For an unexpected pop that can rejuvenate the most tired-looking facade, go for a bright marigold. If you ask us, there's no other color that will make you happier after getting home from a long day.
Click through our slideshow of pretty front doors. And, if you're still on the fence about which color to go for, take a walk around your neighborhood for some local inspiration.
Surprisingly, this taxi yellow isn't as shocking as it may seem in theory. Indeed vibrant, it lends the perfect amount of color to an otherwise boring building. Flickr photo by Kieran Lynam