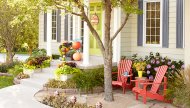 Facade Fresheners
White trim (Satin Snow, #7004-17), dark shutters (Semi-Sweet, #4003-2C), and a brightly painted door (Jalapeño Jelly, #6005-6A, La Fonda Jalapeño, #6005-6C) perk up the neutral siding. A curved walkway washed with a concrete stain (Valspar River Rock) guides visitors to the door. Nearby, a vibrant seating area surrounded by lush landscaping beckons homeowners and visitors.
Warm Welcome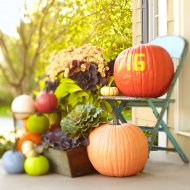 Put a charmingly distressed chair to work as a pedestal. Here, a pumpkin with a stenciled house number sits in the catbird seat while a companion pumpkin painted a lighter hue adds balance below. Bright mums and contrasting coralbells, sweet potato vine, and kale in containers complete the festive vignette.
Pumpkin Play
Small pumpkins won't be overlooked when you paint them in a circus palette of colors. For greater impact, cluster the glorified gourds in and around a wire basket.
Color Echoes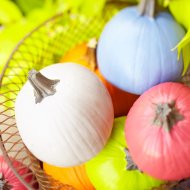 Make the landscape feel more cohesive by repeating colors. From a distance, lime sweet potato vines echo the color of the door and planter boxes. Close up, this kale's burgundy highlights share the same color palette as nearby coralbells and caladium.
Foliage Rules
While mums and hydrangeas provide bursts of color, this entry also features easy-care foliage plants such as coralbells, ferns, caladium, and sweet potato vine. Extending the beds around the planters integrates the narrow steps with the landscape.
Right Light
These low-voltage path lights (#30323) contribute a classic touch to the landscape. The copper finish complements the deep red and bright green foliage of nearby coralbells during the day. At night, the row of lights placed along the front walkway directs visitors safely to the front steps.
Seating for Two
This flagstone patio takes advantage of the shade of an existing tree. Adirondack chairs (model #AA21U) painted in Valspar exterior Terra Cotta Red (#2004-3A) provide a comfy perch for homeowners who want to catch up on their reading or pass the time of day with neighbors. When not in use, the colorful ensemble sends a welcoming message to visitors.