Classic Flat Track hardware is a study in simplicity. Evoking feelings of elegance, the Classic's steel straps fasten to the face of the door, the top of the exposed hangers wrapping gracefully over the wheel and riding on a steel rail for the ultimate barn door look. Classic is suitable for both modern and traditional tastes and is our most popular barn door hardware kit.
Classic is available in unfinished (raw) steel or a variety of powder-coat finishes including black, oil-rubbed bronze, and white. Upgrade to Hush Wheels® for smooth, ultra-quiet operation. Pair your Classic hardware with a for a finished look!
Classic Flat Track is built with Real Carriage Quality in Washington State, USA.
Fast lead time: 1-3 business days from order to ship date for stock items.
DETERMINE KIT LENGTH
Single Door: Multiply your single barn door width by two for optimum track length. Example: For a 3ft barn door, you would typically need a 6ft barn door hardware rail kit.
Double Doors: For biparting doors, choose kit for total track length needed, then change "Quantity of doors on track" to 2 or 3 for the additional door hardware needed. (Track lengths are nominal to accommodate the overlap needed for the bottom guide).
OTHER:
Lag bolts are included standard with all Classic Flat Track kits and are used to attach the barn door hardware track to the wall.
CUSTOM DOOR AND TRACK SIZES
If your door requires a track length that falls between sizes, simply round up to the next available size and pair with . This technique will enable you to customize the endpoint of the track.
Call us for custom track lengths and applications - 800.694.5977
COLOR OPTIONS AVAILABLE
Classic hardware is available in a range of exciting new colors! .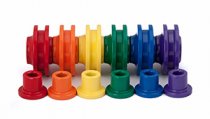 TECHNICAL DETAILS
**Rating per pair of hangers
ACTUAL RAIL LENGTHS:
Use this chart to determine the exact length and quantity of barn door hardware rail you will receive (rails 10' or higher are sent as 2 pieces):
ACTUAL RAIL LENGTHS

Kit Size
Actual Rail Lengths (inches)
Total Actual Length (inches)
4'
1 rail @ 47"
47"
5'
1 rail @ 59"
59"
5.25'
1 rail @ 63"
63"
6'
1 rail @ 71"
71"
7'
1 rail @ 83"
83"
8'
1 rail @ 95"
95"
9'
1 rail @ 107"
107"
10'
2 rails @ 59" each
118"
12'
2 rails @ 71" each
142"
14'
2 rails @ 83" each
166"
16'
2 rails @ 95" each
190"
18'
2 rails @ 107" each
Handcrafted Furniture Custom Furniture
.