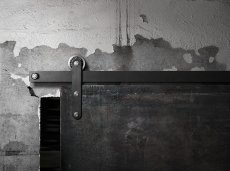 Axel Sliding Door Hardware: The Next Step in Flat Track Hardware
Flat track hardware has been widely used in homes and buildings across the United States for over 100 years. Late in the 20th century, flat track barn door hardware became the chic choice for those seeking a rustic yet modern style of barn door hardware. Today the Axel sliding hardware system presents the next evolution in flat track hardware.
Axel sliding hardware is made from 100% steel, much like the flat track hardware made 100 years ago. What makes the Axel sliding hardware different is design.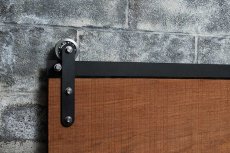 Axel flat track hardware is manufactured to be quiet, more reliable and safer than traditional sliding door hardware.
The all steel construction of Axel Sliding door hardware means that the track can be easily cut and drilled at a project site. This ability to customize means that Axel hardware ships out in a few days, making it the ideal type of hardware for contractors facing tight turnaround.
Call Barndoorhardware.com for more information on the Axel sliding hardware system.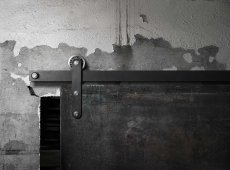 Product Overview
Re-engineering the Original
AXEL is the contemporary interpretation of the original flat track sliding barn door hardware that has been in use for over 100 years. AXEL utilizes the same raw steel material and flat track as those original systems, but has been re-engineered to be quieter, safer and more durable, while still unmistakably reflecting modern esthetic.
Fabricated for Flexibility
AXEL's esthetic harkens back to the industrial feel of its predecessors, with the same natural raw steel patina. And because AXEL is made from steel, you can easily cut and drill the track at the project site to customize it to your needs.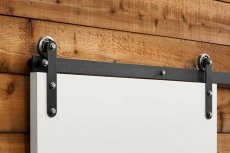 Product Care
AXEL's Steel construction gives the customer the flexibility to cause the product to take on a range of appearances. With sanding, the Raw Steel will look more like stainless steel. If exposed to moisture, the Raw Steel will develop an attractive surface rust. With the application of oil, the Raw Steel will take on a dark, natural finish free of rust. The Black Steel version of AXEL will resist rust, but can be encouraged to develop surface rust with exposure to moisture.
Specifications
For panels 1-3/8″ – 1-3/4″ thick.
Holds up to 150 lbs.
Track length is adjustable in the field.
What's Included
1 Track (not shown to scale).
All necessary mounting hardware.
1 Bottom Guide Post.