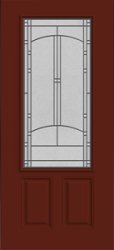 New exterior doors can increase your home's value through greater curb appeal. When upgrading your exterior doors, there are many details to keep in mind. From architectural style to interesting details like a knocker or decorative glass, there are many ways you can transform a basic front door into a grand entrance. Keep the following tips in mind to help select the door that is right for you.
Get Started!
Now that you have an understanding of the many features and options available for entry doors, we hope you're ready to select the type that best fits your needs. Begin your search by browsing our exterior door selection for inspiration.
The information contained on this page is provided solely for general informational and/or educational purposes, and may not be applicable to all products, applications, climates, and other factors. Please consult with your licensed contractor, architect, dealer or local building code official for information relevant to your geographic region and project. JELD-WEN makes no representation or warranty that this information is applicable for your circumstances. JELD-WEN disclaims all liability associated with the use or transfer of this information.
http://leather-conditoner.weebly.com