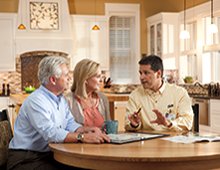 7 things that affect your window cost
These factors will help determine the cost of your project.
It's difficult to estimate the cost of your project until a professional can see your home, assess the right installation type and understand your specific needs. In the meantime, use the information below to compare features and options that will affect your project budget.
Style. Choose from a variety of window styles, including casement, double-hung, bay or bow, awning and more. You'll want to pick one that fits your home, region and lifestyle needs.
Material. Wood, vinyl or fiberglass – each has its own unique benefits. Do your research to find the right material for your home.
Features and options. Similar to how choosing accessories for a new car can affect its price, selecting optional features for your windows can impact your project cost.
Size of project and product. Are you replacing a single window or are you considering a whole-house replacement? Do you want oversized windows? The project cost will vary depending on the size of your project and products needed.
Installation. While DIY may seem like a cost-effective approach, you should consider your expertise before trying to tackle the project on your own. Research installation methods.
Warranty. A good warranty will help protect your investment – and should come standard. Become familiar with warranties to understand what will be covered should an issue arise with the product or installation.
Location. Installation prices may vary based on where you live.
How to determine your project budget
Estimating your window or door replacement cost.
Buying energy-efficient windows or doors for your replacement, remodeling or building project is one of the smartest investments you can make in your home. When installed properly, they'll help you recoup a significant portion of the project cost in added home value. New windows can return homeowners 71 to 78 percent of the project cost upon resale36
| Replacement Project | Estimated Job Cost | Resale Value |
| --- | --- | --- |
| Vinyl Windows (10 windows) | $13, 385 | $10, 252 |
| Wood Windows (10 windows) | $16, 789 | $12, 438 |