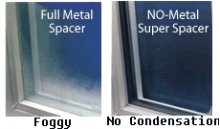 The edge of the insulating glass is the most vulnerable to heating and cooling loss, condensation, and frosting. Condensation is an unsightly problem that will eventually stain wood, peel paint, and rot frames. Condensation can also contribute to mold growth. In fact, visible mold can often be found in poorly insulated or installed windows. Mold is more and more being linked to child asthma plus increases in respiratory illness, allergies, and outbreaks of fungal diseases.
KEEP CONDENSATION OFF THE GLASS WITH THE WARMEST INSIDE TEMPERATURE POSSIBLE.
The primary window condensation culprit is its insulating glass spacer. As a homeowner, its' just as important to know what type of window spacer material is being used between the panes of glass as it is to know what type of glass package is going into the window.
What is Warm Edge Technology?
Common spacers made with metal can conduct heat and cold – causing condensation at the edge of the glass. To overcome the thermal inefficiency of conventional aluminum window spacers, the window industry has developed a new spacer system called warm edge technology. If the spacer material conducts less heat or cold at the edge of the glass than a conventional aluminum spacer, it is described as a "warm-edge" product. However, most of the newer window spacers still contain some kind of metal that will act as a conductor of heat and cold. The world's only TrueWarm® edge is Super Spacer® because it has NO METAL.