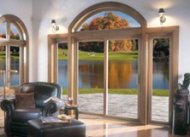 What Are Sliding Glass Patio Doors?
Soft-Lite offers different sizes of sliding patio doors as well as custom-sized doors. ("X" designates the operating panel.)
Beautiful woodgrain finishes complement your fine furniture.
Internal tilt blinds add a refined touch. Blinds tilt for privacy.
Standard colors plus custom colors available to match your outdoor treatments.
A patio door is a glass door, half of which is fixed in place. The other half of the sliding glass door slides open over the fixed portion. It is a source of natural light and a great way to access your porch, deck, back yard or pool area.
There are many options to consider when choosing replacement patio doors. The size of your wall area and how much natural light you want to let in will help you determine the best size for your sliding glass door. Standard patio doors are 6 feet, 8 inches tall. Width size varies depending on whether the patio door is a two- or three-panel configuration.
Soft-Lite's Thermal Glide™ Replacement Sliding Glass Patio Doors Are Completely Customizable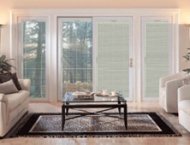 A patio door should be one of the most inviting parts of your home. Soft-Lite's Thermal Glide™ patio doors are attractive, durable, energy efficient, and as maintenance-free as can be. Other features include:
Customizable Sizes: Soft-Lite offers standard patio door sizes and also makes custom doors to meet your specifications.
: Choose from the standard exterior colors Soft-Lite offers or take advantage of our custom color matching program and choose virtually any color under the sun.
Woodgrains: Interior woodgrains are available so you can match your replacement sliding glass doors to your fine furniture.
Attractive Handles: Match your patio door handles to your décor with Soft-Lite's different handle colors and styles .
Secure Locking System: Our deluxe handles provide multi-point locking security by locking the door in four locations. Standard handles are single-lock handles.
Heavy Duty Brass Rollers: Soft-Lite's replacement patio doors glide on heavy duty rollers that provide long-lasting, trouble-free operation.
Fiberglass Sill: The fiberglass Thermal Glide™ sill is very sturdy and will hold up well to traffic for many years without rotting or warping. Because it is not metal, it will not conduct cold, making your patio door even more energy efficient.
Heavy Duty Screen Door: Soft-Lite's sliding screen door is built to remain strong. It is an extruded and mitered screen door that resists twisting, warping and "rack jumping."
Two-Panel Doors are Fully Assembled and Tested Before Shipping: Frames and sashes are welded at the plant and two-panel patio doors are shipped fully assembled. All two-panel sliding glass doors are also tested before shipment to ensure that they roll, close and lock smoothly. (On three panel doors the center panel is packaged separately).