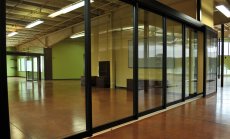 There are many configurations available for Solar Innovations, Inc.'s sliding glass doors or windows. Customers can select a combination of panels, tracks, and even whether or not the doors become completely hidden to open the living space. These configurations include:
» Dual Track Sliding Glass Doors: One operable panel slides behind a fixed panel.
» Multi-Track Sliding Glass Doors: Two or more operable panels slide behind a fixed panel.
» Pocketing Sliding Glass Doors: All panels slide into a pocket within the wall, leaving a completely open space. Two options are available:
— All panels slide into the right side of the wall, or all panels pocket into the left side of the wall.
— Half of the panels pocket left, and the other half of the panels pocket right.
» No Post Sliding Glass Doors: Two sliding door systems join together at either a 90 degree or 135 degree corner, without using a post for the connection.
» Radius Sliding Glass Doors: Panels slide on a track that has been placed on a radius.
Solar Innovations, Inc.'s "no-compromise" design philosophy and commitment to continuous innovation allows Solar to exceed the expectations of our customers by providing the highest quality products and service in the industry.
The Solar team carefully designs each sliding glass door and sliding glass window application to adapt to a wide array of engineering requirements, while maintaining architectural appeal. The width of the visible framing has been minimized to provide customers with the largest viewing area through the glass and a clean finished appearance.
Motorized Sliding Glass Doors

Solar Innovations, Inc. offers a motorized option for use with our sliding glass doors. Motorized sliding glass doors are well suited for both residential and commercial applications and can be added to new construction or previously installed units can be retrofitted.

Motorized options are exceptionally useful when multiple tall or wide panels are involved; eliminating the sometimes lengthy process of moving the door panels by hand. The doors also feature a "crawl mode" that slows the doors before closing and prevents harsh impacts. The motorized sliding glass doors can be controlled by wall mounted switches, exterior security keypads, or a remote control.

Acoustical Sliding Glass Doors

Solar Innovations, Inc. offers an Acoustical (STC) Sliding Glass Door system that allows for a 1.5" insulated glazing unit. This system provides both enhanced acoustical and thermal performance. An acoustical sliding glass door provides the perfect solution for projects that have high STC (sound transmission glass) requirements.

Acoustical sliding glass doors by Solar Innovations, Inc. can be used to reduce unwanted noise in both commercial and residential applications. All testing results are third party certified to meet or exceed the AAMA requirements.