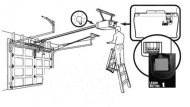 Your garage door opener is programmed with self-diagnostic capabilities which enable you to count the number of flashes and help identify your potential problem. This will give you a breakdown of the Liftmaster, Chamberlain, and Sears A/C model openers. These three brands make up the 70% types of openers that are sold in the country and are all diagnosed the same way.
*Click here if you would like to see the diagnostic chart breakdown for Linear or Genie garage door openers.
Diagnostic Chart, Symptoms, and Solutions:
One flash indicates that your safety sensor wire may be open, broken or disconnected.If your opener flashes twice, then your sensor wire is either shorted or the black and white wires could be reversed. In both cases, your safety eyes will not glow steadily. You should inspect the wiring for any staples or incorrect wiring. To test if your wires are shortened, you must detach the wires and reattach the sending eye and receiving eye separately to the opener to see which wire does not light. If the sensors are aligned and the lights glow, then the wires need replacement. If the lights do not glow, then the safety sensors need to be replaced.
Three flashes are connected with the door control or wire being shorted. Check the door control wires for staples in it just as you did for the safety sensors wires. You can also disconnect the door control wires and touch them together. The door control needs to be replaced if the opener activates once the wires touch. However, if the opener does not activate, then short across the red and white wires with a jumper wire. If you have done this and the opener now works, then it symbolizes the door control wires needing replacement.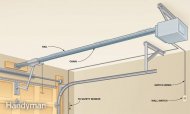 Four flashes is the most common reason your opener lights may be flashing is because of your sensor eyes being misaligned. If an object has misaligned your sensor eyes then it breaks the electronic beam preventing the garage door to close properly. The door will stop and reverse back upwards.
Five flashes indicate that your motor may be overheated or there may be a RPM (revolutions per minute) sensor failure. Unplug your unit to reset it. If it continues to flash, then your RPM sensor must be replaced. If the motor unit still does not operate at all, then it has overheated and the logic board must be replaced.
Six flashes designate a motor circuit failure. The motor unit completely does not work so the receiver logic board must be replaced.
Another reason your electronic beam can be broken is by an obstruction in the way of the lights. An obstruction can be your sensor eyes detecting your foot leaving your door too soon, a broom or such blocking the path, or even something as simple as dust or a cobweb build up on the eyes. These are simple fixes by removing the objects or taking a cloth and dusting off the dirt.
If these solutions seem too complex or do not work feel free to contact a certified technician.
If you are looking for a garage door company that specializes in Garage Doors, Garage Door Repair, or Garage Door Openers, or are just looking for more information, please visit our website at precisiondoor.net. Remember, "We Fix Garage Doors Right"™.