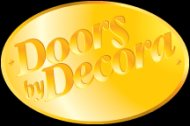 A mission-style home needs to have a matching mission style front entry door, and Doors by Decora can build for you the kind of door which will blend perfectly with the styling of your home. At Doors by Decora we build all of our doors with the originality, simplicity, and durability which characterize a good mission style front door. Your front entry door should compliment the look of your home, and a mission style exterior calls for a similarly styled front door. You can select from the many exterior doors we show in the mission style or we can also custom design and build a mission-style front entry door for your home that will compliment the unique aspects of the design choices you've made for the exterior and interior of your home.
The exterior door you choose for your home should be strong and still be stylish; the mission style is a perfect way for you to conjoin these two aspects. Your input is vital to us in the creation of a custom design and our artisans will expand your ideas in both our glass studio and our wood studio to create the perfect mission style front door. Doors by Decora can also provide transoms or sidelights to enhance the look of the door. Contact Doors by Decora about building you a custom mission style front door to enhance the rustic look and familiar feel of your mission style home.
Want a Quote, to Order, or to Learn More about this door?
We will respond promptly. Since all doors are built to order we can build to your specifications. We quote all doors individually based on your size and configuration. We can adjust size, configuration, wood species, glass design or texture, finish, and hardware to your requirements. We will be glad to price out exactly what you are interested in and price each component so you can easily add or delete items to see how they affect the total price. If you can describe it and we can draw it then we can build it.
Ordering Procedure
Our order procedure is simple, once we have priced out your unit it can be ordered by a fax, E-mail or a phone call. When you place your order we will prepare a complete order approval package with detailed shop drawings and measurements for your review and approval. We will not start building anything until you sign and return this package. We have a list of approved installers for most areas. Since all of our doors are built to your specifications we require a 50% deposit and the balance is due at the time of shipment. These payments can be made by check or credit card. All orders are shipped freight collect and the freight line will collect the actual shipping charge at the time of delivery. We will be glad to answer any questions you, your builder or decorator may have - just give us a phone call at 1-800-359-7557. It is helpful to have your quote number or order number so we can pull up your information.