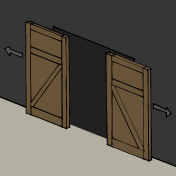 Sliding Barn Doors - Selections from our Gallery
Left: Interior Sliding doors, Right: Single Sliding Barn Door
Bi-Parting Doors
A pair of doors sliding open from the center is considered a Bi-Parting door. The doors slide in the same plane (on the same track) and contact each other in the middle when closed. Each leaf can be automatically operated with our AOSB Bi-Part Sliding Automatic Opener.
Single Sliding Doors
In a single sliding application, one door leaf slides to the side of the opening. Usually, two door leaves are splined (joined) together to slide as a single unit. Operate this door automatically with the AOSG Single Sliding Automatic Opener.
Bypassing Doors
Doors that slide in different planes (separate tracks) are said to bypass each other. Track may be mounted on the face of the building, or within the confines of the jamb. Only the innermost leaf can be automatically operated with our AOSG Single Sliding Automatic Opener.
Bi-Folding Doors
Doors that hinge to each other can fold open in a variety of ways. 2, 3, and 4-leaf combinations can be tailored for your unique situation. Smooth track and glide wheels allow even large doors to open easily. No automatic openers available.
Hardware Basics Key
Sliding door hardware can be very confusing, which is why we've broken it down for you:
Track - Heavy gauge track mounts above or inside the opening.
Track Bracket - Track is supported by these brackets.
Trolley - Rolling trolleys suspend the doors' weight for flawless operation.
Center Stop - Stops the doors at the center of a bi-parting system.
Stop - Heavy duty stops keep the door from the track's end.
Door Handle - Handles and door pulls allow the door to be drawn open.
Concealed T-Guide - These guides are hidden in a groove at the bottom of the door.
Sliding Garage Door Openers - Automatic Operators add convenience to your application.