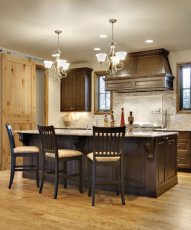 Site:
Author: Sarah Kellner
Date Submitted: 2/12/15
In the past decade, interior design has been heavily influenced by simple country and "old world" charm. Everywhere you look, vintage pieces are popping up, from framed antique maps to shelving made from reclaimed wood. This influence is also apparent in the emerging popularity of interior barn doors.
What are barn doors? Rather than hanging in a frame with hinges on the side, barn doors are exactly what they sound like: doors, often wood and oversized, that attach to a track on the wall above the doorway with a sliding mechanism. Interior barn doors are incredibly trendy and stylish, but unlike some home trends, this one won't become dated because in addition to being interesting and eye-pleasing, barn doors are incredibly practical.
We sat down with the experts at Masonite to discuss the appeal and benefits of installing interior barn doors. Here's what they had to say:
1. Aesthetics
According to Keith Kometer, Masonite's Vice President of Residential Product Development, "Barn doors have become so popular because they are unique. Very outside of the ordinary. You can [create the look] with something extremely familiar, from rustic woods on to looks that are entirely modern. People are designing rooms to fit around statement pieces that serve as focal points."
Speaking of statement pieces, you don't have to just stick to wood or white finishes. Barn doors can double as wall art, so why not go bold with a colorful finish like deep crimson? We've even seen someone create a barn door out of a vintage 7-Up sign. The sky is the limit!
2. Functionality
Not only are barn doors very attractive, they are highly functional. Masonite's lead industrial designer, Patrick Ege states, "Barns doors add a level of functionality you can't get with normal doors. You can close off an entire room with one door." What a great way to vary the look and feel of your home's interiors.
3. Space Saving
Interior barn doors are perfect for areas where you don't have the swing space for a traditional door. While their footprints are smaller than standard hinged and pocket doors, bear in mind that with barn doors, you do need to have enough wall space adjacent to the doorway where the door will slide.
4. Simplicity of Installation
Another great selling point for interior barn doors is that they are super easy to install. No construction is required as it is with pocket doors. Installation is as easy as attaching a mounting board to the wall with drywall anchors, spacers and lag bolts directly under the place where the track will go. Then assemble and cut the steel track if necessary, drill your holes, and install the track making absolutely certain that it is level. Attach the hanger rollers to the door slab, guide the rollers over the track to hang the door, make sure everything is secure and functions properly and you're done!
Barn doors are a great way to make a statement in your home. Where will you hang yours?
Sarah Kellner is a writer for The Home Depot. With a background in art and design, she writes on a wide variety of home improvement and real estate topics. To configure your own custom Masonite door,