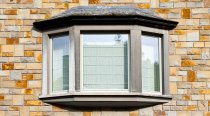 What are the Different Types of Windows?
Finding the perfect windows for your home isn't as easy as it seems. There are so many different options available today that it can be pretty overwhelming to try to pick out the right one for your needs. Windows can be square, rectangular, octagonal and even triangular and that's just the shape. Some windows open to the side, some slide up and others tip up like a canopy. Each of these diverse types of windows offer something special to a home, and only a homeowner that understands their options can make an informed decision to choose the right windows.
Double Hung versus Single Hung
Double hung and single hung windows are two of the most common options that you'll see on any home today. There is one major difference between single hung and double hung windows and that's how the different window sections move. In single hung windows the bottom window panel or lower sash moves up and down and the upper sash remains stationary. This means that when you open the window the upper sash is covered on the inside. In a double hung window both upper and lower sash can be lowered and raised.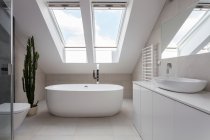 Each one can be tilted as well.
Choosing Windows Based on Cost
If you're trying to pick out the most affordable windows you'll want to go with single hung over double hung. They are more affordable overall and most people are used to them since they are the more common window choice. Typically, single hung windows are about 20% more affordable than double hung windows.
Choosing Windows Based on Utility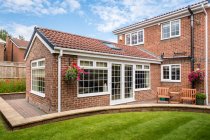 Double hung windows are the better option from a utility and maintenance standpoint. They are more versatile and easier to clean. You can get to each sash easily and clean both the outside and inside of the window comfortably from inside your home. You can also tilt the windows to allow a breeze in more effectively than you can with single hung windows.
Specialty Windows
While single hung and double hung windows are the standard interior options, they are not the only options available for you to adorn your home with. There are other choices that you can pick from as well when you're looking for different styles and improvements to make.
Bay or Bow Windows
When you want a window that projects out of your home to add a bit of additional floor space you want either bay or bow windows. Each of these windows comes out of the exterior wall and creates a small shelf in the home. The larger the window is the larger the shelf is.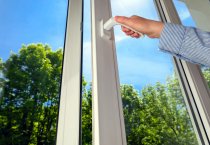 The windows serve as a nice architectural accent. Bay windows are usually a better fit for modern homes and bow windows better for older Victorian style homes. Bay windows rely on flat windows set into an angled frame that's built out of the house. In fact a professional can construct a custom bay window using standard double or single hung windows in a row. Bow windows on the other hand rely on custom curved windows that come together to create a circular outcropping in the home.
Both bay and bow windows are nice accents on a home, but it's important to consider the cost of the window before making a decision. Consider that bay windows are much more affordable than bow windows. In fact, bow windows are 2.5 times the price of a similar sized bay window in most instances.
Bay windows also provide more shelf space within the home than bow windows do and many people even create a window seat with their bay windows. In the end it really comes down to personal style preference and budget.