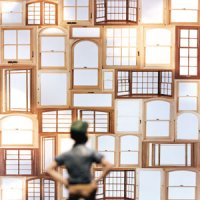 A window is simple — glass held in a sash that fits into a frame. Buying windows is anything but. Whether it's for a new home or an addition, the range of options can be mind-boggling.
The good news is that windows are better than ever, with a wide variety of styles, frames that hardly ever need maintenance, and glazing systems that can slash energy costs.
Double-pane insulated glass, heat-resistant coatings, and airtight frames can cut household energy expenditures by as much as 15 percent compared with the leaky single-pane models of yesteryear. As a result, homeowners are letting the sun shine in like never before.
"Windows are getting bigger and bigger, " says This Old House general contractor Tom Silva, "and people are adding more of them."
That improved technology comes at a price. While windows once accounted for 3 to 5 percent of a new home's cost, today 8 to 10 percent is more common.
In this four-part series, we offer some pointers to help you cut through the confusion and spend your money wisely. This section: A basic primer on different types of windows. See the Related Links at left for articles on glazing, frames, and replacements.