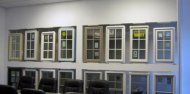 "Over the past 3-1/2 years I have visited lumberyards in 42 states and have learned about hundreds more construction supply companies. I have seen many innovative ways to show products, but Quality Window and Door is the only one that I've seen that puts differing brands' windows side-by-side so that customers can compare the products and get the best possible idea of what makes each one special and which is best for them. Kudos to Quality for this consumer service. I hope other dealers will follow their example."
Craig Webb
Editor, ProSales
Hanley Wood Business Media
The door and window replacement selection process is very complex and can often be very frustrating. With so many brands and multiple options available today, it is easy to understand why 40% of homeowners are disappointed in their replacement window purchase once installed. Bob Neidig, President of Quality Window & Door, experienced this problem first hand and developed a buyer's dream, the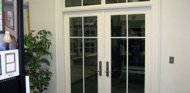 In 1995 Quality Window & Door constructed the first consisting of eight major brands of replacement windows. Within the Comparison Wall are double hung and casement options on display, making it easy for customers to compare, side by side, replacement window brands that are being considered.
The is updated every two years with new product improvements made to each manufacturer's window lines. The Comparison Wall of Windows displays products from Andersen, Pella, Marvin, Jeldwen, Weather Shield, Hurd, Peachtree, and Plygem.
50% of Brands featured are not offered by Quality Window and Door, Inc.
Benefits of the Comparison Wall of Windows
Time Saver– one Showroom, one Visit and all the answers
Window Education– direct comparison and thorough explanations/answers
Peace of Mind- feeling secure in knowing a well informed decision has been made when selecting a window brand
and learn why 8 out of 10 visitors to our showroom buy from Quality Window and Door!