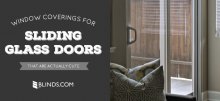 Sliding glass doors give us beautiful views and easy access to the backyard. Most of the time all that sunshine is welcome, but blinding glare is no fun. Plus, sometimes you don't want the neighbors to see right into your home.
That's why blogger Elizabeth who writes at gave Blinds.com a call.
Elizabeth Says:
"I never knew the importance of window coverings until we moved into our current home. There is a sliding glass door which leads onto the balcony and the sun shines so bright that we are literally blinded when sitting on the couch watching TV."
Patio door window treatments come in all shapes and sizes and will give you all the light control and privacy you need. If you thought vertical blinds were your only option – We've got good news!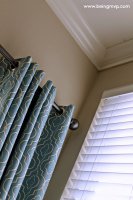 Blinds.com has a great collection of Vertical Blinds Alternatives including sliding shades and fabric panels. One of our favorite sliding door coverings – and what we recommend for Elizabeth – was drapery panels.
"The ordering process was quite simple once I got the measurements down. There is the option to purchase ready made drapery panels. However, I selected the custom route with the Easy Grommet Drapery Panels in the gorgeous Donetta Cascade fabric."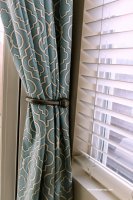 Elizabeth's custom drapes fit her sliding glass door perfectly. She also added a blackout liner for even more light control and completed her look with matching hardware.
"The blackout lining was a must to keep the bright sun at bay. The simple and clean look of the custom wrought iron rod with ball finial in pewter with coordinating tiebacks complemented the drapes to a tee."
"The result is a gorgeous window covering that blocks out the bright sunlight while bringing an elegance to our family room amongst the toys. I really want to re-do all the windows in our home now!"
Get the Look!
Elizabeth chose Easy Grommet Drapery Panels in Donetta Cascade, Custom Wrought Iron 1″ Drapery Hardware and Wrought Iron Orb Tiebacks in Pewter. Head over to Blinds.com to find window coverings for sliding glass doors and more!