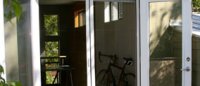 Plissé retractable screens are custom-built to easily fit in-swing & out-swing doors, French (double) doors, sliding glass doors, Atrium doors, all kinds of windows and even boats and recreational vehicles.
read more
Helpful articles related to measuring for and installing your Plissé retractable screen door, choosing optional adapters, planning your installation & much more.
read more
View images of a variety of retractable door and window screen installations.
read more
Nikki B. • Oct. 2011

I love my Plisse screen door. My husband installed it in 45 minutes. I love it so much I am going to order another one just as soon as I can measure the door. And, I love that it is assembled in the USA. Thanks Screen Solutions!

Doug, THANK YOU so much for ALL your help on my screen doors!!! They are in and I LOVE LOVE LOVE them! It is EXACTLY what we needed! So nice and it doesn't take away from my beautiful custom made doors!!! Can't tell you how happy I am with them! Thank you!
I really appreciate your guidance, above and beyond, on this transaction. You took the time to not only communicate via phone and email (which was very prompt I might add), you went so far as to highlight photos I sent of the doors and engage in a discussion so that you could understand more fully how the doors are constructed due to the fact that the sliding glass doors were installed backwards. This allowed you to come up with a solution that will work perfectly as well as prevented me from submitting incorrect dimensions. Normally, it would seem that installing screens is a rather mundane task but in this particular case, I not only wanted affordable, highly functional screens that retract but I also wanted the ability to open my doors on a sunny day to let the air from the Sound cool our place without worrying about bugs and wind blowing open the screens. This will add a whole new dimension to our living space. Thank you, Leslie