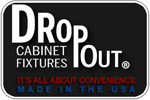 Hafele
Heavy-duty steel crafted and wood spice racks, jars, shelves and baskets.
Rev A Shelf
Rev-A-Shelf offers a variety of spice racks in many styles to choose from.
Omega National
Wood door mount and drawer inserted spice racks from Omega National Products.
Knape & Vogt
Wire door mount spice racks, wood and heavy-duty plastic spice drawer inserts from Knape & Vogt.
Transparent Inserts
Acrylic adjustable kitchen door mount spice rack. Clear acrylic lets you see your spices and fine cabinetry.
Vauth-Sagel
Vauth-Sagel spice racks are a practical and space-saving solution for your kitchen.
Rogar
All your spices can be organized and kept within easy reach with these 3-Tier Steel Spice Racks by Rogar.
pegRAIL
Spice Rack Set by pegRAIL mounts to your kitchen's walls so that each spice is always organized and easily within reach.
Sawbuck
Saut Pan Rack by Sawbuck features a built-in shelf so that you can keep spices and other items that need to be organized in the kitchen.
Dropout Cabinet Fixtures