Overlay cabinet doors (the door is larger than the opening and "lays over" it)
Full Inset cabinet doors (the door fits completely in the opening and is flush with the cabinet surface)
Partial Inset cabinet doors (part of the door is inset into the opening and part of the door overlays the opening)
Offset cabinet doors (very similar to "Inset" however the hinge is surface mounted and all of it is visible.)
For each of the cabinet doors types listed above there are many different cabinet hinge types that can be used. We have listed many of them below.
Overlay Cabinet Doors
The 1/4″, 3/8″ and 1/2″ overlay hinges shown below are set overlays. The overlay dimension is measured from the edge of the cabinet opening to edge of the cabinet door as it lays in the closed position on the cabinet. The variable overlay hinge accomodates any overlay dimension because it attaches to the surface of the cabinet and not to the edge of the cabinet opening.
Full Inset Cabinet Doors
Full inset cabinet doors are used on cabinets where the door butts up against the edge of the cabinet opening. The door lays flush with the surface of the cabinet face. Full inset doors can use either butt hinges or surface mounted cabinet hinges.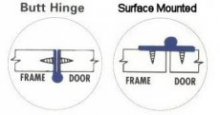 Partial Inset Cabinet Doors
The most commonly used partial inset cabinet doors dimension today is the 3/8″ inset. The 1/2″ inset, 5/8″ inset and 3/4″ inset hinges were used in the 1950′s and 1960′s and are not longer used in new construction. We still have stock in these older inset cabinet hinges but the finish selection is limited to 5 finishes (polished brass, antique brass, chrome, satin nickel and oil rubbed bronze).
Offset Cabinet Doors
One more type of inset door is shown below. There could be an infinite number of offset dimensions, however most of the offsets that we run into nowadays are 3/8″ offset. The hinge used is a 3/8″ offset hinge. Even though this is an older style cabinet hinge we still stock a good selection of 3/8″ offset hinges.