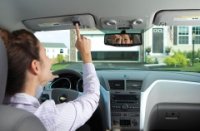 Don't you just hate it when you drive away from your garage and a gnawing question pops into your head: Wait, did I close the garage door?
Fortunately, consumers who are paranoid—or just forgetful—no longer have to worry. Manufacturers increasingly introduce garage-door openers that can be programmed to close automatically or that can be monitored and controlled by your smartphone, so you can close it from any location.
Meanwhile, the arrival of models that have built-in LED fixtures means that you never have to change a light bulb, manufacturers say. Finally, new wall-mount controls add LCD or touch-screen features that alert you to operational problems and prevent the need for fetching a ladder to program remote controls (or remotes) or change system settings.
FORGET ABOUT IT. Four manufacturers now have models that close the garage door automatically. You preset the garage-door opener to close the door from 30 seconds to 99 minutes after it opens. In other words, if you preset the door to close automatically at its fastest setting, you'll have 30 seconds to back out of the garage, which we found to be an adequate amount of time to enter and settle into a vehicle, fasten a seat belt and back out of the garage.
Chamberlain, Craftsman and Liftmaster introduced so-called timer-to-close features in September 2011, followed by Raynor in January 2013. Marantec was scheduled to introduce the feature on two models in December 2014. Skylink says it will add the feature to one of its garage-door openers in 2015. In all, we found 19 models that incorporate this feature at press time, the least expensive of which is a $208 model from Chamberlain that has a 3/4-hp motor and a chain drive. That model costs $38 more than the company's other 3/4-hp chain-drive garage-door openers that don't have a timer-to-close function.