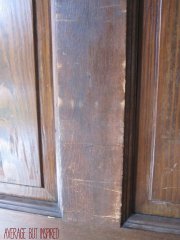 Because of that, I decided to simply paint the door. But then I started feeling guilty about that. I was thinking that Nicole Curtis (The Rehab Addict), might come to my home and beat me down for painting over the original woodwork.
Scared of that tiny but fierce lady, I did some research on how to refinish woodwork the easiest way possible. That's how I found out about gel stain. This was the KEY to reviving my door.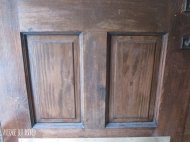 Unlike regular stain, gel stain did not require me to remove the door from the hinges, strip the door or do any extensive prep work at all. The easy way is my way. Sold.
So I was determined to revive my door, got my supplies ready and got to work. I used the following items:
– Foam brushes in varying sizes
– Cheesecloth
STEP ONE
I washed the door to remove the dirt and grime that had accumulated over the years.
STEP TWO
I lightly sanded some parts of the door, focusing on the areas that still appeared to have some protective finish on them. Then I used a cloth to remove the dust that appeared during sanding.
STEP THREE
I followed the directions on the can of gel stain, and I applied stain to a small section of the door. I had a temporary freak out when it appeared to be a really dark, solid color – almost like pudding. I thought I'd ruined my door.
STEP FOUR
I used my cheesecloth to wipe off the excess stain on the area to which I'd recently applied the stain. I repeated this process until I'd finished the entire door. Here you can see that stain had been applied to the right side of the door, but not the left. Look at the difference already!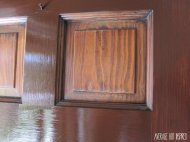 I breathed easy because I hadn't ruined the door. (Oh, and in case you're wondering why I didn't remove the door knocker and the lock and handle . . . I tried. I just couldn't get them off. Ridiculous.)
I then let it dry overnight, and repeated the staining process again.
This is the door with two coats of stain, but no protective topcoat yet. Already beautiful, right?
STEP FIVE
After the second coat of stain had dried 24 hours, I began applying my protective topcoat, per the manufacturer's directions. I applied four coats throughout the course of the day, which allowed me to finish the topcoat portion without sanding in between any of the coats. This was key to ensuring ease of application.
Can I just say that my door is now GLEAMING? It looks totally amazing – almost like a new door.
I couldn't be happier, and I think Nicole Curtis would be proud.
P.S. If you're a total slob like me and get stain all over your hands during application, rub some vegetable oil on them afterwards – the stain will come off easily and almost instantaneously!