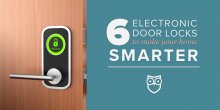 The days of locking your keys in the house or forgetting to lock the door can be a thing of the past, thanks to the variety of affordable electronic door locks on the market. Once the domain of the wealthy for entry to their multimillion dollar estates, an electronic door lock can now grace your front door for a few hundred dollars.
Before we explore the features on some popular electronic locks, let's learn more about how they work.
Entry Methods: RFID, Keypad, Biometric, and Bluetooth
Most electronic door locks come with one or more means of entry, which include RFID, keypad, biometric (fingerprint), or Bluetooth.
Early electronic locks used keypads with a pin number for entry. Keypads are still popular, although newer models use touchscreen panels instead of buttons and include security features to help prevent burglars from figuring out the code.
Radio Frequency Identification (RFID) locks use a key fob or card for entry. With RFID technology, you may not have to remove the key fob from your pocket or purse, meaning no more fumbling in the dark or trying to find your keys when your arms are full to enter your home.
Bluetooth-enabled locks operate in a similar way, sensing your smartphone's Bluetooth ID and opening when you approach. Most Bluetooth and RFID locks also use a secondary means of electronic entry, in case your battery dies or you lose your key fob or cell phone.
Biometric entry uses fingerprint identification to open the lock. If you've used this feature on your smartphone or laptop, you understand how it works. All you do is program your fingerprint, or those you want to have access to your home, and the system knows this is an acceptable person to unlock for.
When Electronic Locks Get "Smart"
Some electronic locks can open remotely via an app and can integrate with your home automation system for added security and protection, placing them in the category of "smart" technology.
For example, if your alarm system detects a flood in your basement while you're on vacation and sends you an alert, you can call your neighbor to go check on the problem. While you're sitting on the beach, you can unlock the door for the neighbor and lock it again after they've remedied the situation and left. By the time you get home, you hardly realize there was a problem.
These electronic door locks could mark your first foray into building a "smart home" or they may connect to and complement existing smart devices in your home for added convenience. Here are six of our favorites.
Kwikset is a well-known name in home locks, and their new keyless smart lock combines the look of their conventional keyed locks with high-tech functionality. The Kevo was one of the first smart deadbolts on the market and uses both Bluetooth and Radio Frequency Identification (RFID) technology, so users can unlock the door via their smartphone or with the included keyfob.
The lock is iOS and Android compatible using Bluetooth technology, which means no Internet access is required and your lock doesn't live "on your network." With Bluetooth enabled, the lock can even sense when your smartphone approaches and unlocks the door for you – no more fumbling with keys when you're in a hurry or your hands are full.
You can grant two devices with full access eKeys and share an unlimited number of guest eKeys. The Kevo Mobile App lets you monitor lock activity and manage the eKeys, but it isn't necessary to unlock doors. A "Lost Phone" reset option disables access to your lock from your phone, should anyone with one of your eKeys lose their device.
Kevo also integrates with the Nest Learning Thermostat, a programmable thermostat that provides remote control and automation of your home's heating and cooling system. You can use this to set your temperature preferences and optimize your energy usage.
If you're looking for maximum flexibility in connecting your smart lock to your home's other smart devices, or even a whole-home automation system, the Yale Real Living lock is a strong contender. The lock features the luxury look of other high-end Yale locks, with the choice of a push button keypad or a modern capacitive touchscreen, in deadbolt or lever lock designs. The lock holds up to 250 user-selected codes, and also provides entry via a conventional key.
The Yale lock is compatible with Zigbee and Z-Wave independent mesh networks, as well as Crestron's proprietary mesh network, infiNET Ex, and the user-friendly Crestron Pyng hub. By controlling the lock through an independent mesh network, the Yale lock connects to your smartphone, tablet, or PC without using your Wi-Fi bandwidth. Yale also integrates with Honeywell, Control4, Alarm.com, Elk, and a number of other home automation and home security systems. The features vary depending on which Yale partner system you have.