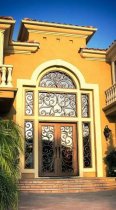 Double panel doors create a magnificent entryway for any style of architecture. Cantera Doors manufactures an extensive line of award-winning wrought iron entry doors in a broad range of architectural styles.
Our expert CAD Design Department tailors every wrought iron entry door to the client's needs, and ensures that all technical specifications are exact. Cantera Doors are constructed from high quality 16 gauge steel using artisan handwork.
Benefits of Double Panel Iron Doors
Iron entry doors can greatly enhance the appearance and value of your home–in some cases, an iron door remodels the entire appearance of an entryway. Not only are wrought iron doors low maintenance, they also increase the value of your home by enhancing curb appeal, while providing added security against theft.
All Cantera Iron Entry Doors are finished using high quality coatings to protect against the elements, and feature Quattro Weather Control (pat. pending), the latest in insulation and finishing to ensure a perfect seal in any weather.
Custom Wrought Iron Front Doors
Cantera Doors proudly offers custom design services to help guarantee your new entry makes a bold statement. Our artisan metal fabricators hand work and forge ever metal element in our custom designs–every one of our custom wrought iron doors is a one of a kind work of art. We even offer iron door remodel services for some existing doors.
Iron Entry Door Features
Mono-profile frame and stiles
Iron doors and wrought iron entry doors fit standard rough opening
16 gauge steel construction
Polyurethane foam insulation in Doors and Frames
Polyurethane paint
Full perimeter weather stripping/insulation
Quattro Weather Control System (pat. Pending)
3/4" insulated, tempered glass offered in 3 textures – Clear, Flemish, and Rain
Glass panels open independently for easy ventilation and cleaning
Custom matched latches, handles, and hinges
4 1/2" Ball Bearing Hinges for smooth, gliding operation
Available in 4 9/16" and 6 9/16" frame depths
Door Panels Interchangeable with Frame Size and Handing
5 Year Limited Warranty
A Timeless Work of Art – Wrought Iron Front Doors – Created or Remodeled Just for You
Cantera Doors recognizes how vital it is to translate client's needs into original, functional designs. Our representatives are experienced working with builders, contractors and designers to gather technical specifications and ideas.
Cantera's Wrought Iron Entry Door designs are trademarked and copyrighted to ensure authenticity. Any design can be customized to fit the unique profile of your home entryway and come available with additional features including custom wrought iron sidelights and custom transoms in a variety of styles. Cantera Doors always the perfect iron door to remodel any home or commercial entryway
Florida Hurricane Impact Rated Doors
In our commitment to provide products that stand up to the toughest building standards we now offer a variety of door configurations that have been engineered, tested and certified to meet the new Florida Building codes.
In conclusion, you may read about Locksmith Services London