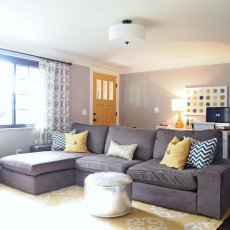 When we first bought our home, just over a year ago, I was immediately drawn to all of it's potential – possibilities for an open floor plan, one floor living, and enough outdated finishes to go around. One thing we've really enjoyed bringing into the home is character. Things like crown molding, solid-core craftsman doors, beadboard in the bathroom, and built-ins galore. I love ranch style homes, but that doesn't mean we can't infuse a few other styles as well. My all-time favorite upgrade we've made, that isn't so "typical ranch", is craftsman-inspired door trim. I say inspired because we're definitely not experts, and who knows if we're doing anything by the books here, but we really love the look and hope you guys can gain some inspiration from it too!
I'm almost positive that the only time I've shown our door trim here on the blog was while featuring our new front door. Which is a shame. Seriously. It's beautiful, and I'm a little perplexed at what's taken me so long to write this post.
I mean, it's everywhere in our house. Yet, somehow I've mistakenly hidden it.
The day we finished trimming out the all the bedroom doors in the hallway was a little like Christmas for me.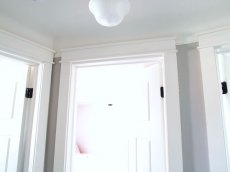 So, since we're in the midst of remodeling the laundry room, which just so happens to have FOUR doors, I thought it'd be a good time to share the whole process in action! It's crazzy easy.
First up, a look at the wood selection. (twss)
We used three different sizes to frame out the entire door, as illustrated above. Rather than try to describe where each piece was used and probably lose everyone in the process, I'll just show pics. It's not rocket science 😉
Ricky did most all of the work here, and after a little trial and error, he found it easiest to start by assembly the two side pieces.
And instead of following up with the top portion directly to the wall, he built it independently first. A nail gun got the job done here.