See if We Have Top-Rated
Garage Contractors in Your Area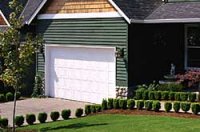 When a garage door is working properly, it's one part of your home that you most likely forget about. When it fails, however, you're quick to realize how important it is that your door functions properly. Many major repairs can be avoided with some basic garage door maintenance, but there are certain repairs where calling in a garage door repairman isn't just encouraged, it's required.
An Apple A Day . . .
Of course, the best way to stave off costly garage door repairs is to perform regular garage door maintenance. If you're mechanically inclined, basic maintenance tasks are within your reach and include tightening all of the fasteners on your door and lubricating all the rollers, hinges, tracks, and springs. Many homeowners choose to hire a garage door repairman to come perform regular maintenance check-ups for them. It's not a bad idea, since a professional who works with garage doors day in and day out will be able to spot smaller problems that you might miss, and fix them before they become bigger ones.
Before You Call a Garage Door Repairman
Because most homeowners aren't familiar with garage doors and their operation, they often fail to check a few obvious things before calling in a pro. The two most common easy fixes include looking for obstructions and checking your garage door opener to make sure it's getting power.
Look closely to see if any garden tools, pieces of lumber, or other items are blocking the track. It doesn't take much to keep a garage door from operating smoothly, or to keep it from opening or closing at all. If you find something in the way, remove it, and you should be back in business.
Check to make sure your garage door opener is receiving power on both ends. Replace the batteries in the hand held unit, and make sure the main unit is getting electricity from the home. You can also pull the release string that frees the door from the automatic system. If your door works fine manually, you've successfully identified the problem.
Time to Call the Garage Door Repairman
If things still aren't working after you've tightened everything up, lubricated all the rollers, tracks and springs, and checked for obstructions or power issues, then it's time to pick up the phone. A garage door repairman is an expert the field, and with so many moving parts, it often takes a professional to identify where the system is failing. Also, with the increasingly complex technology that keeps automated garage door openers running, you often need to call in a trained technician to gets that aspect of your garage door system back on track.
Never Try This at Home
Finally, keep in mind that there are certain repair jobs that you never want to try yourself. Most garage door systems have several high tension springs and cables to help them open and close easily. Never try to repair these parts of the door yourself. High tension cables can cut like razor blades when released, and high tension springs can turn into deadly projectiles if not dealt with properly. Since serious personal injury is a real possibility, any repairs involving cables or springs should be left to your garage door repairman to handle.
Best DIY farmhouse furniture
.